Regular price
Sale price
$99.00
Unit price
per
Sale
Sold out
Considered the most remote, lonely place in the United States, the Aleutian Islands are a mystery to most, even to Alaskans. Its fog shrouded, volcanic islands are suspended between Russia in the West and the Alaskan Peninsula in the East. My husband, two sons, and I purchased our wild, remote land in the Aleutian bush with Izembek Wildlife Refuge bordering one side, and the waters of Bechevin Bay the other. We name our homestead Whale Bone Bight because a gray whale had beached himself there, leaving whale bones on the beach. Wildlife is abundant both in the sea and on land such as wolves, caribou herds and the largest of the grizzly bear family, the Alaskan Brown Bear. In this large oil, the bears are among the fall foliage of lowbush blueberries and willow. One of the bear cubs has just noticed the Arctic ground squirrel, one of the mainstays of the bear's diet. The alert squirrel is poised to flee. Overlooking the scene is the brooding sky and smoking volcano. Will the squirrel escape or the bear dine?
8 x 12 Giclee Print on Rag Paper starts at $99.00. Please allow 3 weeks for delivery.

Share
View full details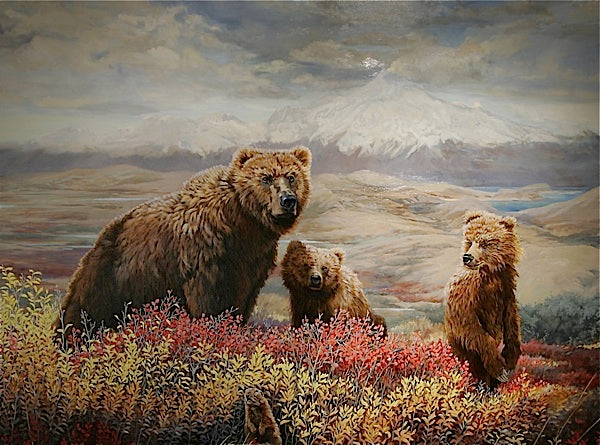 No recommended products at the moment.
products